Intent
The national curriculum for mathematics aims to ensure that all pupils:
· become fluent in the fundamentals of mathematics, including through varied and frequent practise with increasingly complex problems over time, so that pupils develop conceptual understanding and the ability to recall and apply knowledge rapidly and accurately.
· reason mathematically by following a line of enquiry, conjecturing relationships and generalisations, and developing an argument, justification or proof using mathematical language.
· can solve problems by applying their mathematics to a variety of routine and non-routine problems with increasing sophistication, including breaking down problems into a series of simpler steps and preserving in seeking solutions.
At Marnel Junior School, we aim to inspire a love of mathematics for all children. We endeavour to combine fluency of the fundamentals of mathematics with conceptual understanding to further and deepen children's learning. Our aim is to provide learning which promotes problem solving and reasoning whilst ensuring underlying mathematical structures are highlighted through the use of manipulatives, models and images. We strive to provide opportunities which focus on the why and the mathematical structure, rather than the final answer to encourage deep thinking and reasoning.
We believe that mathematics is a creative and inter-connected web of concepts and are committed to ensuring that all children recognise that connections across mathematical domains to be able to use their skills and knowledge confidently within their lives, in a range of contexts.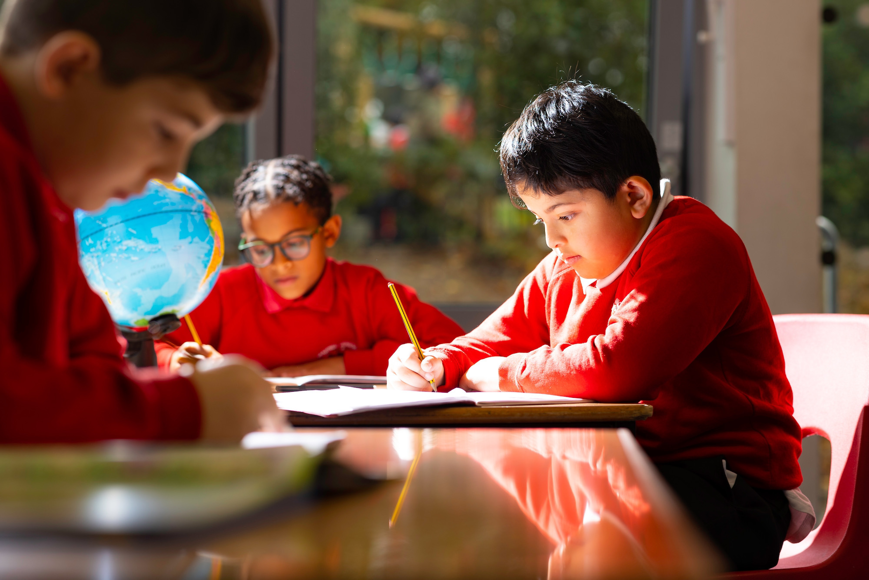 Implementation
Maths is taught with a focus on mastery teaching encompassing conceptual understanding, mathematical thinking and mathematical language, with reasoning and problem solving at the heart of curriculum.
For these reasons, mathematics is taught daily incorporating real-life contexts and problems where possible. Maths lessons are interactive which promotes rich mathematical dialogue and thinking between children. This is achieved through ensuring specific aspects of the mastery approach to the teaching of mathematics have been incorporated into our teaching across all year groups. All children are encouraged to use a range of resources and representations to develop their conceptual understanding in recognising underlying mathematical structures, which will further support the development of procedural fluency.
Mathematics teaching within the school is based on the five big ideas for teaching mastery: coherence, representation and structure, fluency, mathematical thinking and variation, which outlined below:
To support with providing a coherent mathematical curriculum, Marnel Junior School follows White Rose where domains are broken down into small, progressive steps which enable children to develop their knowledge and skills. instead of being taught in longer unit blocks, the domains are revisited throughout the year providing children an opportunity to engage and build on prior learning, whilst also exploring the mathematics in depth. Children are provided with further opportunities to access prior learning through flashback questions at the start of lessons. Geometry and measure are integrated throughout the mathematics curriculum to support children in making connections across domains and applying their knowledge to a range of contexts.
We recognise that mathematics is an interconnected subject where pupils need to be able to move fluently between representations of mathematical ideas. When planning lessons, careful consideration is given to ensure that the mathematical structures and concepts represented highlight underlying structures to support children's understanding. Representations which are used throughout the school draw out structures and help develop children's understanding: dienes, place value counters, tens frames, part-part-whole model and the bar model. These are used initially to help children understand calculation strategies and make connections, however children are encouraged to not rely on them as a tool for finding answers and calculating. All staff are confident in the representations used across the school and will model mathematical structures using the most appropriate resources.
Children develop fluency in their number facts through varied and frequent practice by chanting these, playing games as well as looking at the connections, sequences and patterns. It is imperative for children's future learning in all areas of mathematics, not just calculations that they continue to recall and apply knowledge of number facts rapidly and accurately. Children complete daily arithmetic practice which focus on the accurate use of number facts recall in calculations.
Children are encouraged to think mathematically through completing tasks which incorporate fluency, variation, problem solving and reasoning. Within maths lessons, teachers will use stem sentences to support the development of mathematical thinking and understanding of generalisations. Assessment for learning tasks are carefully designed to highlight misconceptions which are then modelled and discussed with the children. Misconceptions are planned for throughout the mathematics domain to challenge children's thinking.
Children are taught together in mixed ability classes to enable all children to be supported, challenged and achieve. The majority of pupils will move through the National Curriculum expectations at broadly the same pace, however teachers use assessment to decide when it is appropriate for children in their class to progress or if more practice is required. Scaffolds and additional support are provided for children who are struggling to grasp a concept through the use of differentiated layers within a lesson including a pre-layer, additional resources or practice, pre-teacher or closing the gap interventions. Children who grasp a concept rapidly are challenged through sequential layers which require them to think more deeply about the concepts and apply them to unfamiliar contexts. This supports children to develop their mathematical thinking and language alongside each other, with all children challenged to reason. High quality and effective questions are further used within mathematics teaching to provide opportunities for deepening knowledge and understanding.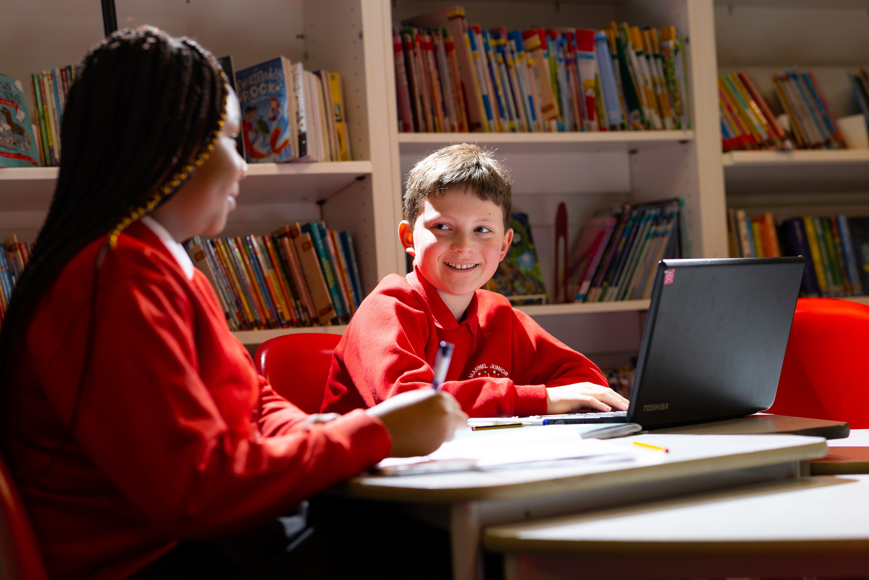 Impact
Formative assessment takes place throughout maths lessons and verbal feedback is predominantly used within lessons at the timely point of learning to unpick misconceptions. When reviewing books, teachers will often build in misconceptions and next steps into the following lesson so children have the opportunity to practice and apply the skill. Year group teams work closely together to ensure their assessment informs planning and the next steps for children.
At the end of each term, children sit NFER year group papers to monitor standardised scores and to support with measuring progress and impact. Data is analysed to support planning and future interventions. Year 6 children will sit the end of Key Stage 2 statutory assessments and are provided with opportunities to practice these and monitor progress prior to the test. Year 4 children will take part in the statutory Times Table check at the end of their year.
The teaching of mathematics is monitored regularly through data, book and planning monitoring, learning walks and observations. The information is used to identify strengths and areas for development across the school. Staff training and coaching is provided for to support with any areas of development.