Intent
Our bespoke ambitious curriculum is designed to provide high quality education for every child.
The aim of our curriculum is to inspire and excite our children by learning through first hand experiences and learning relevant to the 21st century.
We deliver a curriculum which values both skills and knowledge in a progressive way to ensure that children are enabled to achieve academic and personal success. We believe it is important that learning helps pupils make sense of the increasingly complex and rapidly changing world in which they live.
Our curriculum enables pupils to think critically about world issues and to develop an awareness of the impact our own actions can have on others. By exposing children to this we hope to develop each child with an enquiring mind and instil in them a love of learning which they can then take with them to apply and support them with their future education.

Our curriculum not only meets the requirements of The National Curriculum but also the needs of our children in our school. We promote children's growth mindset and collaborative learning, as a means to build resilient and ambitious learners. We aim for every pupil who enters our school to leave at the end of Key Stage 2 at least at the Age Related Expectation for all subjects, demonstrating deep knowledge, skills and understanding.
Furthermore, we want to ensure that our children develop into aspirational, successful young people who are confident, well-rounded and able to make considered and informed choices, both when progressing to secondary school and in later life. With an ever-changing world, we aim to work with the local community, as well as exploring wider national and global issues, to prepare children to be successful, responsible citizens of the future.
Implementation
Our curriculum is planned and delivered across our school to enable clear progression in skills and knowledge.
We value active learning opportunities to immerse children fully in to the learning experience and strive to provide creative opportunities where children are encouraged to take risks, ask questions and explore their learning in collaboration with others.
Rosenshines 10 Principles of Instruction are at the heart of our teaching and learning and both children and staff regularly review their work, within and outside of the lesson, providing appropriate questioning, support and challenge. We ensure that learners understand the small steps they need to go through and use flexible and responsive teaching to move children on when they are ready. We provide them with opportunities to apply and develop their learning following clear modelling and demonstration of skills, building on their prior learning. Independent practice is a key element of our teaching process and we use this to ensure that children have the opportunity to refine and practise skills to show understanding. Daily, weekly and monthly review are used to support children with their working memory and enable them to continually practise skills and knowledge to support the learning process.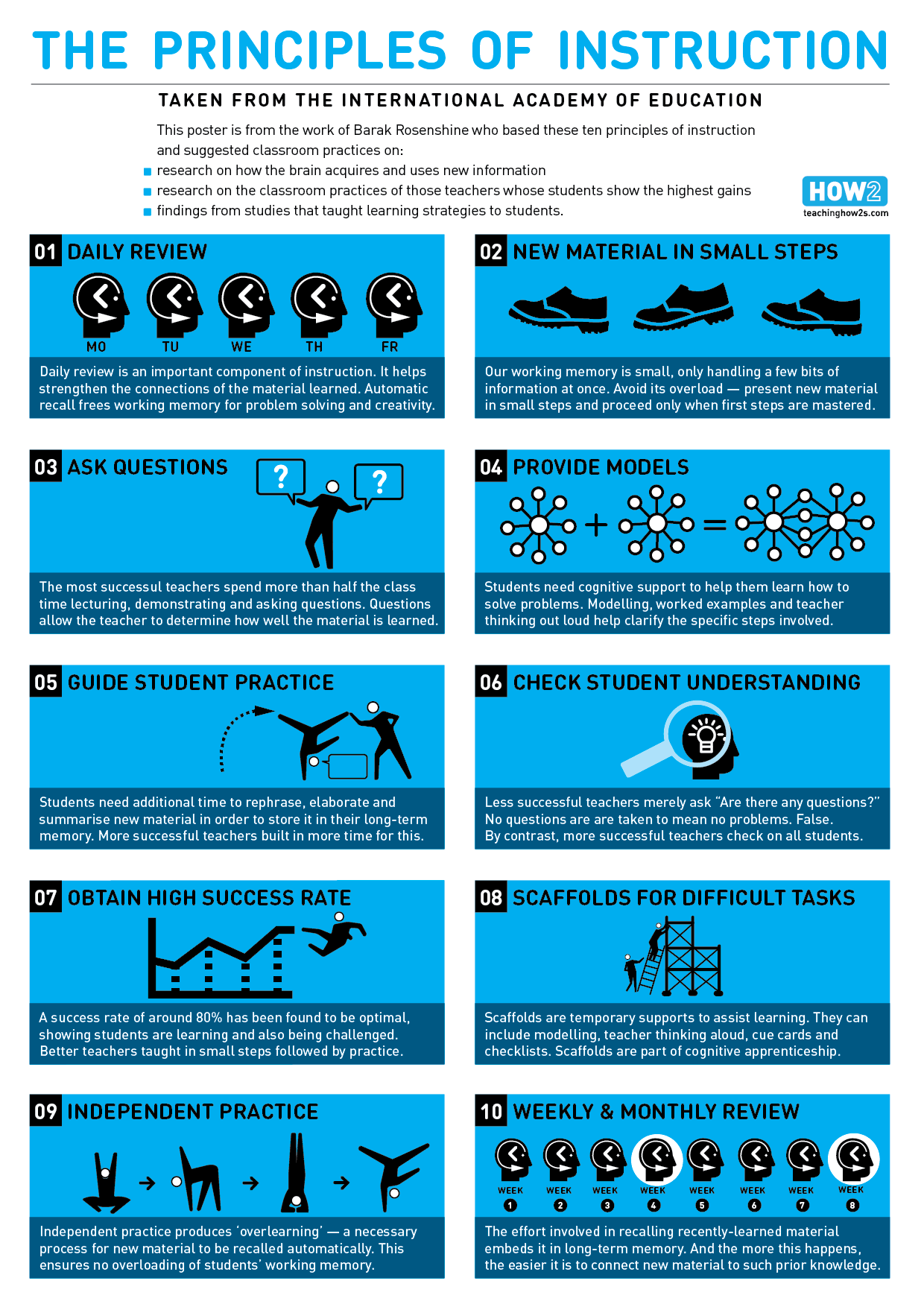 Each subject area has a skills progression document which enables teachers to pitch the learning at the right level and sequenced building on prior understanding. This learning journey is supports through scaffolding and extend where needed to ensure appropriate pitch for all learners.
Our learning each term is coupled with our aspirational learning behaviours to support the children with their learning and overall developement. These learning behaviours are:
Open minded
Resilience
Respect
Co-operation
Reflectiveness
Tolerance
These underpin the core values of the school and are integral to ensuring that the experiences children have are purposeful, relevant and help them to grown personally as individuals with high aspirations.
Where relevant, reading and writing skills are developed alongside the key objectives across the wider curriculum to provide learning opportunities which are purposeful and engaging for all children, covering a range of genres. The development and application of high quality language and vocabulary is embedded across the curriculum, whilst the teaching of reading is also taught explicitly to all children daily using high quality texts. In addition, the school promotes a love of reading with a daily class story and other reading initiatives and support programmes to ensure that children leave school as competent, confident and passionate readers.
Maths is taught with a focus on mastery teaching, encompassing three main dimensions for depth: conceptual understanding, mathematical thinking and mathematical language, with reasoning and problem solving at the heart of our curriculum.
Each subject area is taught discretely and valued with its own integrity to ensure that children have a full understanding of the skills and knowledge needed to make progress across a broad and balanced range of subjects. As well as offering the subjects outlined in the national curriculum we also offer 'Life Skills' sessions to enable the children to develop skills and knowledge to support them in their growth and development both socially and emotionally.
Impact
Through our curriculum we aim to encourage independence and an enquiring mind with a thirst for learning. Our children enjoy the broad and balanced range of subject areas covered and enjoy seeing their progress and development.
At all levels of leadership across the school, leaders monitor and review the curriculum to gauge the impact of our curriculum design as well as to develop and refine this further.
Our aim is for children to leave Marnel Junior School equipped to face challenges and with the skills and desire to achieve their full potential whatever path they choose.